Pizza is a thin layer of plain flour dough topped with pizza sauce, peppers, sausage, mushrooms, and other vegetables as well as cream or cheese that is sprinkled or placed on top of another dish to enhance its presentation and flavor.
Top 10 UK's Favorite Pizza Toppings
Different pizza toppings can be placed on top of the pizza dough. A tomato sauce is usually placed over the crust, and afterwards one or more toppings, like chopped meats, minced meats, pepperoni sausage pieces, Canadian bacon, Italian sausage, shellfish like shrimp, vegetables like peppers, or fruit like pineapple, are added. Almost in all topping for pizzas, the outermost layer of toppings is usually cheese.
Here is the list of the most popular pizza toppings in United Kingdom.
Four Cheese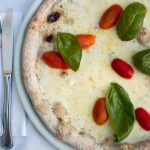 Four cheese pizza is a type of pizza topped with a mixture of four types of cheese, such as Mozzarella, Gorgonzola, Fontina, and Parmigiano-Reggiano, which are commonly melted with or without tomato sauce.
If you're searching for a very cheesy pizza, this is the one to go for! Pizza dough topped with four different types of cheese. You'll never get another pizza it because it's so rich and wonderful!
Margherita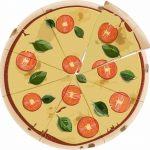 It is a plain pizza. Its dough is special and called a bubbled dough with shredded tomato sauce, cheese and basil, few drops of olive oil, and little salt when it's done correctly. This pizza is very easy, light, and sure to please a crowd. This pizza was originated from Italy. Its Margherita means three Flag colors of Italy i-e red, white and green which represent the tomato, cheese basil leaves.
Meat Feast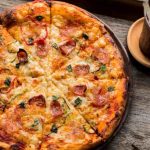 You won't be able to resist this mouthwatering Meat Feast Pizza. Delicious meat, green peppers, red onions, and jalapenos on a thin crust. This pizza is specially made for meat lovers, loaded with Pepperoni, Italian sausage, ham, bacon, seasoned pork, and beef.
Hawaiian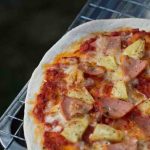 Pizza sauce, cheese, grilled ham, and pineapple make up a traditional Hawaiian pizza. Sweet, salty, and cheesy all in one bite that's Hawaiian pizza. Hawaiian pizza is a Canadian-style pizza that is traditionally topped with pineapple.
Mushrooms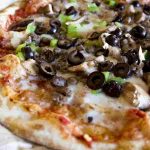 The humble shroom has been voted the most popular pizza topping in the United Kingdom. Whether it's due to gourmet trends toward vegetarianism or simply a newfound appreciation for mushrooms.
Tuna and Sweetcorn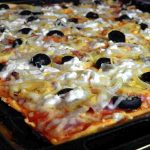 Sweetcorn is a polarising pizza topping option. When matched with salty tuna and thick mozzarella cheese, it's a winning combination! Corn is the perfect topping for pizza because it complements everything. Corn is the vegetable that works best with Tuna and cheese, and it provides a sweet crunchy aspect to a pizza.
Bacon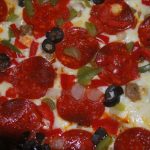 Bacon goes with just about anything. With the salty flavor of a strip of bacon, everything tastes better. Cooking the bacon to a crisp crispness is essential for a perfect bacon pizza. Otherwise, the cheese and soured cream sauce will make it excessively soft. Pizzas with pancetta, which is bacon's Italian cousin, are also common.
Sausage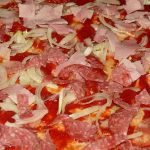 Sausage tastes good. It's a kind of meat with all the flavor associated with being cooked and none of the mess associated with cooking it yourself. . It gets everyone involved, and it helps that it is easy to make.
Spicy Jalapeno and Peperoni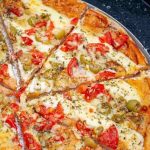 The Spicy Jalapeno Pepperoni Pizza is a spicy take on the classic. The pepperoni's heat mixes well with the jalapeo's bite, replacing the red chili flakes you might normally use to top your pizza. Pepperoni is also regarded as one of the most costly pizzas in the world.
Olives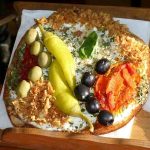 this pizza, olives in black are used mostly as toppings. Black olives are also filled with meat, or other ingredients and then can use in different cuisines.
Top Pizza Toppings Supplier in UK
There are many suppliers in UK who are providing readymade most popular pizza toppings. However, the leading pizza toppings supplier in UK is Pentagon Food Group, who are delivering quality and service to Foodservice industry in UK. Being a food products supplier, quality and taste has always been their preference.
Conclusion
Pizza is a popular dish all around the world. The appeal of pizza spread is that you can customize it to your liking and consume it at any time of day or night.
A plain cheesy pizza is loved by even small diners. It is a never-ending challenge for daring eaters. The bread comes in a range of shapes and sizes, including flatbread, light, whole wheat, filled dough, Crusty toast and many more. The sauce is next, and while red sauces are the most prevalent, barbecue sauce, white sauces, pesto, and other compositions can also be used as a pizza's base. Last but not least, different garnishes are also there. Toppings of Pizza usually start with a sort of cheeses and add whatever you want.